PEARLS Healthcare Debriefing Tool
---
The PEARLS blended approach to debriefing originated from a review and synthesis of feedback, debriefing, and educational literature (a complete list of citations which informed PEARLS is available in the 2015 Simulation in Healthcare paper). It has been used and cited broadly. We attempted to make it more user-friendly by using design principles. Many iterations later, we bring you the PEARLS Healthcare Debriefing Tool in association with Academic Medicine. In an effort to disseminate and further improve the Tool, it is available as a free download in both English and German (translation by Walter Eppich, Jan Schmutz, and Michaela Kolbe). 
We have created versions of the tool that can be viewed electronically on your phone, tablet, or computer and printed as a pocket card or poster. We hope that it assists with faculty development and your own debriefing. Feel free to print the pocket card for personal use, hang the posters on the walls of your debriefing rooms, and download the electronic versions to your personal devices. Printing instructions are provided below.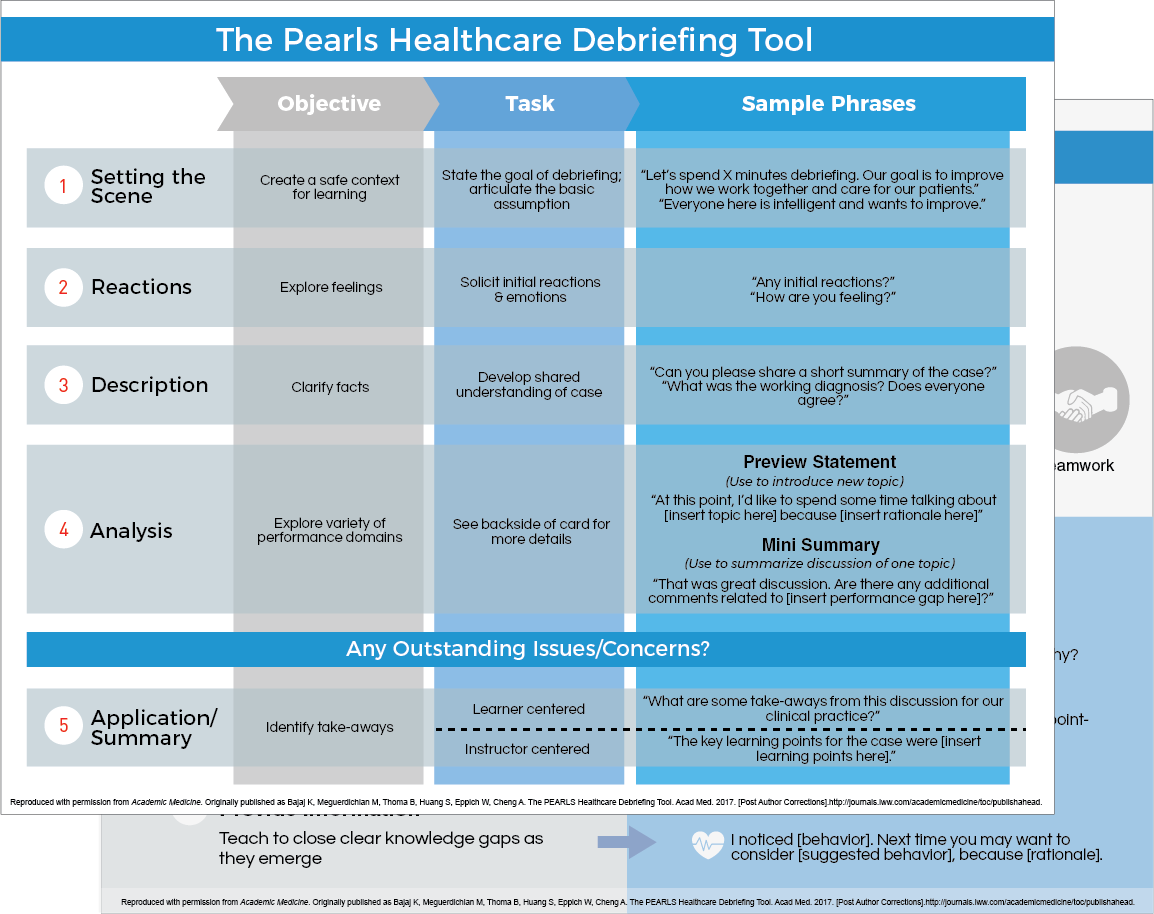 In return for using this resource, we would graciously request your assistance in promoting the resource (refer others to this page!) and providing feedback that will help us to further improve the tool. Does it facilitate use of the PEARLS Framework? Is the content useful? Are the icons helpful? We will aim to acknowledge those who provide feedback as Collaborators on publications using their responses.
5.8" x 7.2" Pocket Card
(PDF, both sides)
---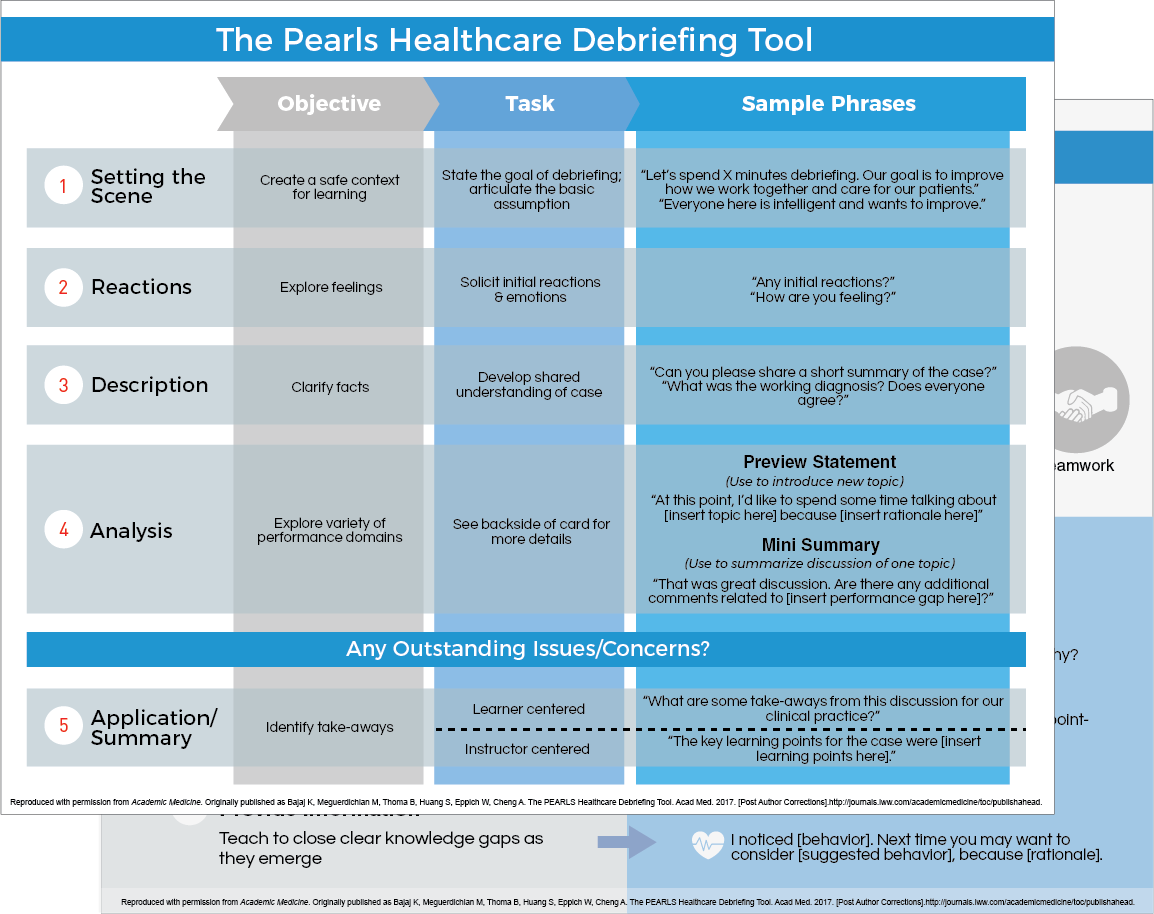 Phone, Tablet & Computer
(PDF, both sides)
---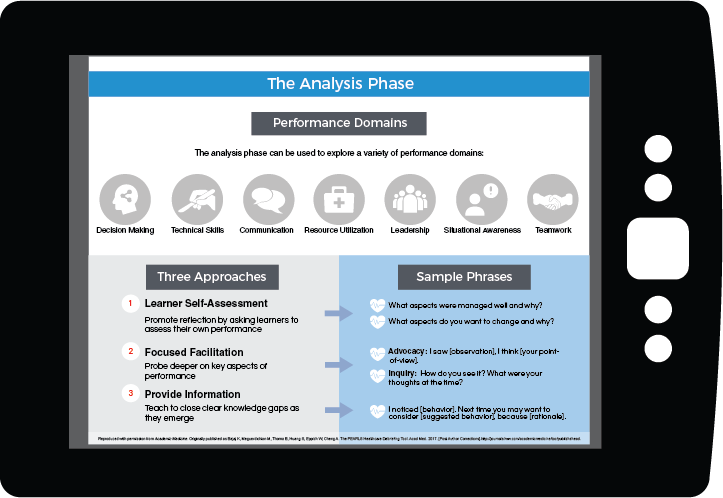 8.5" x 11" Small Poster
(PDF, both sides)
---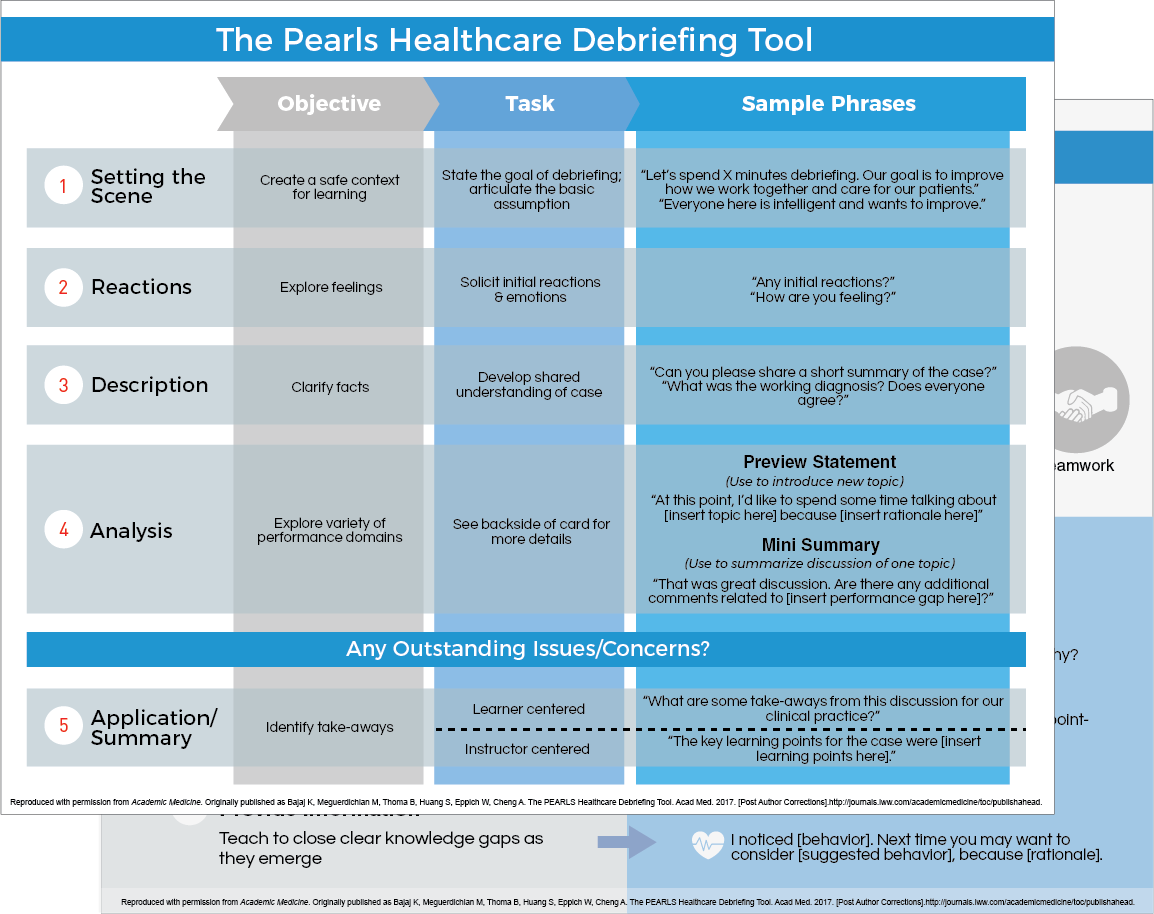 ---
Phone, Tablet & Computer (PNG)
---
24" x 36" Large Poster (PNG)
---
The Pocket Card (5.8" x 7.2"), Small Poster (8.5" x 11"), and Large Poster (24" x 36") formats are designed to be printed. For the Pocket Card, we recommend printing on both sides of the same sheet of paper then cutting it out and laminating it for durability. The Small Poster can be printed as a double-sided handout or a single-sided table/wall poster. The Large Poster is intended to be printed on two separate sheets and hung on the wall. If you require a different size please let us know how you plan to use it and we will aim to make it for you.
---
---
Referencing the PEARLS Healthcare Debriefing Tool
---
The PEARLS Healthcare Debriefing Tool has been reproduced with permission from Academic Medicine. It was originally published and should be referenced as: Bajaj K, Meguerdichian M, Thoma B, Huang S, Eppich W, Cheng A. The PEARLS Healthcare Debriefing Tool. Acad Med. 2017. [Post Author Corrections]. [Link]
---